Last year during Thanksgiving weekend, I had a Magical Day with Thomas and Kim and a few others. It consisted of good food, sparkly tattoos, and learning how to make paper cranes. Exactly a year later, we reunited for Magical Day 2.
This time around, we met up for brunch, sipped on cinnamon coffee, and finished our meals with buttery croissants filled with chocolate and almond cream.
We then convened at a playground where we blew up dozens of pink balloons, after we monkeyed around on swings of course. (Kim and I have had a long standing affair with balloons.) We then took the balloons to one of the two red telephone booths we knew of in Houston. The other one was locked and occupied by a mannequin.
This one though, happily, was open and empty! We filled up the booth with balloons and then had a mini photo shoot. I'll show you the official photos on Wednesday. We left the balloons there for passersby to enjoy.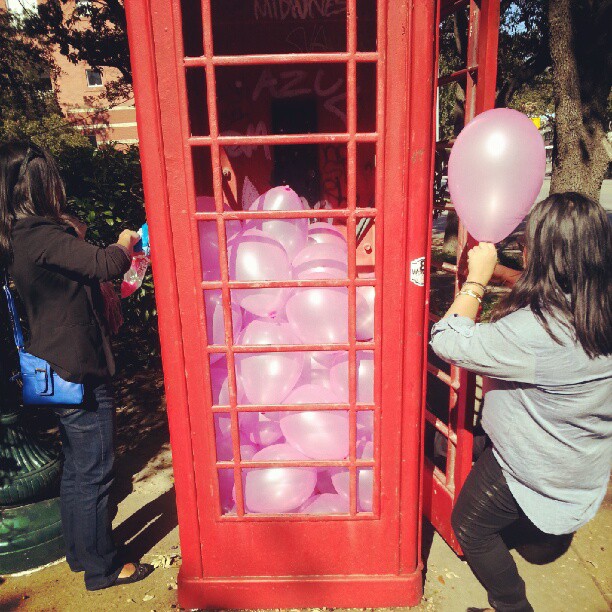 It was so much fun. We took turns gingerly getting into the booth and shrieked in surprise when a balloon popped. I loved how well we played together. One person would squeeze herself or himself into the booth, while the remaining three stuck their hands into the booth and fluffed up the balloons.
It was a beautiful and joyful start of our Magical Day 2. We followed up the Balloon Renegade Street Art with a craft show, board games, and a fancy dinner. I'll post the photographs from Thomas on Wednesday for Wordless Wednesday. In case you missed these two from my last post and Twitter, here are two sneak peeks.
Leave a comment and tell me about an awesome day you had recently.