BBBB was the most stressful birthday party I've been to. I don't know how the bingo pros /elderly do it. I had one sheet of 9 cards and that's pretty relaxing and laid back but when I decided to take one of Brittany's 9 card sheets to help her out, I felt like I was back in elementary school doing SPEED MATH. Minus the math… At the big bingo hall in Austin, on your birthday you can buy 27 cards and a computer game for one penny. I don't think Brit's doing 27 cards again.
How do you make bingo classy?

You bring your own minature bottles of wine!
We managed to get Alan to come even though he swore after his first time, he'd never go back. This time he learned his lesson and stuck with a relaxing 9 cards. I love how in the following picture he looks like he's going to stab the shit out of his bingo cards.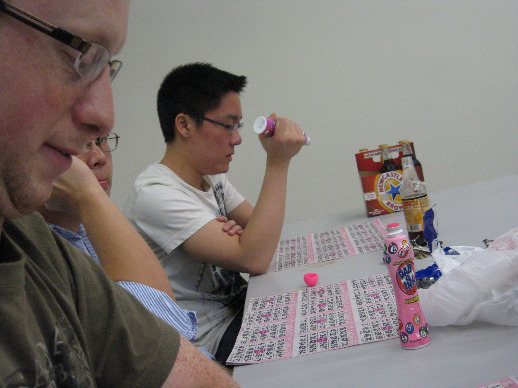 So you can buy yourself fancy bingo bags on the internet. For instance, this one I found on Amazon.
Or you can make your own!

The bingo bag we made last night
Time to go to work :) I'm taking half a day today off so I can face one of my biggest fears. Kayaking. Wish me luck.