Category:
Big Brothers & Big Sisters of America
1.
This week on Totes Awesome Channel, we talk about our favorite shows.
Youtube Link
2.
Today marks 5 years with my little from Big Brothers & Big Sisters of America. I wrote about our first date here.
We are celebrating by going to the motorcycle races at Circuit of the Americas. It's an awesome opportunity afforded to us by luck of the draw and a generous donation to Big Brothers & Big Sisters. I look at photos of her when she was eight and I can't believe how much she's grown. At 13 she can pass for much older! (Which is kind of scary to me.) Here's to another five years!
3.

Speaking of five year anniversaries, Alan and I finally properly celebrated ours which was last month. I wanted to check out The Elephant Room in Austin. It's been around the whole time I've lived in Austin which is 12 years now, and I have yet to experience the jazz scene there. We were going to go to celebrate in a timely manner but SXSW made it complicated so hence the delay. I've never listened to live jazz. It's even more soulful and sexy live.



4.
I love Bob's body language in this one. His paws make him look freaked out.
5.

If there was a theme this week in food it was bacon. I had lunch with a coworker while running errands. Beer & Bacon Ramen. Nuts right? Then I saw our bacon was going to go bad soon so I cooked up all 8 slices. I used the bacon grease to make my own croutons! I've never made my own croutons before but what a genius way not to waste stale bread!



6.
We're 25 days out from leaving for Paris! I have been declining a lot of friend dates and dinner dates in an attempt to save up all my pennies. It makes me feel like a downer but the exchange rate and pricing over there is steeper than here! How soon is too soon to start packing?
7.
This week's moments of bliss: ♥ jazz club date with Alan ♥ beer bacon ramen ♥ beer grease croutons ♥ banana nutella cupcakes from my favorite cupcakery ♥ Boston loved ones are safe and their loved ones are safe ♥ 5 years with the little ♥ Kim and I exchanging everything we see about Paris ♥ good vegetarian night ♥ the comments on my last blog post ♥ finally getting to level 3 of Jillian Michaels ♥ conversations with dad during rush hour
Question: What shows do you watch?

I've posted yearly recaps since 2008. I'm a stickler for tradition so here's my recap for 2011.
Previous years: 2008, 2009, 2010
I had a good year.
Note: All links open in a new window.
January
Battled an eye infection for a full month. It was gross.
February
I didn't see Alan often because of his work.
BDF (Best Dudie Friend) visited Austin! This ended up being the only time I saw him this year.
BDF surprised me with cookies. His note gets me Google search hits that make me a little sad.
Sent out Valentine cards and socks to my girlfriends.


Alan and I hanging out
March
Alan took me to my first NBA game, Heat vs. Spurs.
BFF had cake balls delivered to me at work.
My solemate (deliberate misspelling) visited Austin.
Hosted my first giveaway on the blog.
Attended a free screening and Q&A with director of Meaning of Tea, a fantastic documentary about tea. Really!
Alan and I had a two part dinner to celebrate our three year anniversary at Haddington's and Uchiko (my favorite restaurant).
Attended Austin Food Blogger's Alliance Launch Party and applied for membership.
March was a turning point in my life. I faced myself in therapy. I'm still reaping the benefits.


At Sketchbook Project event
April
Visited Houston for dad's birthday.
Alan and I went to a drive-in theater for the first time and saw Back to the Future. Drive-in was on my life list!
Joined Austin Food Blogger's Alliance.


Hillary, Alex, and Me at the San Angelo Library
May
I got bangs impulsively, changing my do for the first time in 5 years.
Took a canoe trip with coworkers, facing a handful of irrational fears very reluctantly. Obviously, I survived.
I participated in Leo's Habit Course and developed a palate for vegetables by eating one serving a day for 30 days.
Flew to Boston to see BFF. We drove to New Hampshire, Vermont, and Rhode Island, all three were states I've never visited.
Read 8 books this month.
Totes Awesome Channel was founded.



June
Went home to Houston for Father's Day.
I hit a boulder with my car. I always hit non-moving objects. Anyway, this was the start of a chain of bumper problems during the rest of the year.
I hemmed my first dress! As part of my new year's resolutions, I wanted to do 10 learning tasks with sewing. This was my first major lesson.
Went to third Annual Cupcake Smackdown
July
Met Ashley D, Ashley, and Nicole of Totes Awesome Channel and recorded a vlog.
Celebrated my 28th birthday simply with a dinner with Alan and then a movie and drinks with friends.
Made my favorite video: 28 Life Lessons from 28 People (for my 28th birthday).
I caught up to 2007 and got my first smart phone!
My friend, Naz surprised me with a vlog from my dad.
I got really cozy with Tennessee Williams and his movies. Cat on Hot Tin Roof is excellent!


Celebrating my birthday
August
Successfully completed VEDA despite being out of town twice and moving!
Met up Hillary and Alex in Dallas for our second girls' weekend of the year.
Moved in with Alan.
Used my passport for the first time since renewing it 2007. Alan and I took a vacation to Vancouver, Canada, my new favorite city.


In front of the Vancouver Aquarium



September
I went to some of my Ten Year Reunion and was pleased to see all my classmates have blossomed to beautiful women.
With a lot of conscious effort, I averaged 6 hours of sleep in the month of September! (I'm usually sleep deprived.)


Class of 2001



October
Donned a borrowed construction hat and went as Heidi in Home Improvement for Halloween.



November
Posted a blog post every day in November.
Ran two blocks of a 5k for Race for the Cure and raised 460 dollars. Thanks to a lot of you!
Went to Texas Renaissance Festival with Brandi and Jessica. It was our third year going and we decided to only do new things. We threw knives, shot bow and arrows, and had our face painted. It was the first time I've ever had my face painted!
Had my second blogger date with Treavor.
Attended a We Are Girls conference with my little. It was incredibly insightful.
Had a Thanksgiving picnic with friends at the park. We threw a whole cooler's worth of ice cubes into an enormous fountain, to create ripples, to help push a soccer ball to a sad toddler across the fountain. We were successful.
During breaks between eats, we made paper cranes for Kim's tree.
My bumper nearly killed Kim and me and got us murdered in the woods.



December
I decide to like Christmas. I discovered it took more energy disliking it than it does to give into the cheer.
Partcipated in Austin Food Blogger's food swap.
I was without a car the whole time I was in Houston for Christmas (the bumper needed to be replaced) and was touched to have friends pick me up for dates.
Sewed couch pillows with help from mom.
Hosting a "Never Have We Ever" dinner party tonight. Post to come!


Bob hanging out with snowman



In writing this post, I realized this year was really sweet for relationships. It may have a lot to do with my prioritizing close friends over acquaintances and then learning to set boundaries. Recently, I've been in a funk about not having a life's calling but I have to say, I'm really content with my tribe. Word on the street is that it's the relationships that really matter.
Wishing you a terrific end of year celebration! Lots of love!
Question: What happened this year with you?
1.
This week on Totes Awesome Channel, we talk about dreams.
Youtube Link
I dream about food a lot and once my friend and I both dreamed the same dream on the same night.

2.
I haven't touched either of my blogs all week. I've been feeling kind of insignificant and withdrawn. That I'm not doing anything worthwhile. I know this feeling will pass and it's really a symptom of my not knowing where I'm supposed to be going. I'm almost out of my twenties and still knee deep in that Quarter Life Crisis. I'm slowly pulling out of this mood by telling myself to have patience and to keep searching.
3.

I could start a new category on my blog about my extracurricular failures. I tried using the sewing machine for the first time without my mom hovering. Luckily I used scrap fabric to practice before attempting sofa cushions because I totally mucked it up.

I got all tangled up and could not extract the scrap from my machine. The machine (with attached piece of fabric) is going back to Houston with me to get more lessons from momma.

Oops!




4.
Speaking of failure, I ordered my Christmas gift for my niece and nephew. I've never met them. My sister and I lost touch for 16 years and finally reconnected over Facebook last year. Anyway, the package was delivered December 7th. Perfect timing to wrap it with my sister's gift and mail it. Except I totally shipped it to my old apartment and now it's in forwarding limbo. It has been "forwarding" since the 7th and I only live 20 miles away from my old address. It's likely I won't be able to ship it out in time. I'm already failing at being an aunt!
Grumble, grumble.
5.
I've been conscious about being a little more receptive of Christmas cheer. I went to three holiday parties last weekend! Fun ones too. My friend Jamie hosted a potluck, I went to the annual Christmas party for Big Brothers Big Sisters, and Austin Food Bloggers Alliance had a little party. It was my fourth BBBS Christmas party with my little. I'm loving that we've been matched together for almost 4 years now! Lastly, I joined the Austin Food Bloggers Alliance for a competitive game of White Elephant. I got too greedy and picked the most popular gift (mandolin) and got stuck with a corkscrew. (The theme was kitchen gadgets.)

I've tweeted at Shelley for two years now and we finally met at the Austin Food Blogger's Christmas Party!
P.S. Christmas music still makes me want to gag.
6.
Speaking of Christmas cheer, I received some goodies in the mail! Abby sent me a pretty journal. I'm nearing the end of mine and am thinking about jumping straight to the one she got me. (I always have a few blank journals in a queue.) Bree sent me a surprise package. Postman told me it looked like it had gone through war. Hee. She got me a novel, wine journal (I LOVE THEMED JOURNALS!), and wine flashcards. I'm on my way to becoming a lush! Thank you, ladies!
My sister sent me a fun package that included a mini red Christmas tree! Y'all know my Christmas decor is very limited (4 stockings and 3 snow globes), so this tree really livens up my dining table.
7.
This week's moments of bliss: ♥ making my first successful pumpkin pies ♥ having a focus for my Sketchbook Project ♥ I have a relationship with my sister! ♥ gorging on ginger snaps ♥ puff pastry ♥ cheese ♥ persimmons ♥ making it through a really long and cranky week ♥ dreaming about 2012 ♥ emergency chocolate stash ♥ sweet package from Abby ♥ surprise package from an anonymous friend ♥ surprise package from Bree
Question: When's the last time you made a mistake? Tell me about it.
This past Saturday, my little from Big Brothers & Big Sisters attended a one day
We Are Girls Conference
hosted by
GENaustin
. I read about the conference and immediately knew I wanted my 12 year old little to attend. We've had conversations that involve serious issues in dating, unhealthy body image, bullying, etc and I really want her to feel more empowered. I also wanted more insight on how to navigate our conversations.
Here is part two of my recap. You can read part 1 here.
Empowering Your Daughter
Workshop lead by Barb Steinberg, LMSW, producer of The Wisdom of Girls documentary.
What causes our girls to feel disempowered?
The Triple Bind of expectations (Stephen Shinshaw, PhD)

1. We expect them to be good at traditional "girl things" like empathy and nurturing.
2. We expect them to be good at traditional "boy things" like assertiveness and competitiveness.
3. We expect them to conform to narrow and unrealistic set of standards that allows for no alternative


We expect them to succeed in all these areas and make it look easy. They feel awful when they have to try hard to achieve these impossible standards.


We tell our girls they can be anything but expect them to be everything.


We reward girls for putting others first and reward boys for self-assertion.


Girls could put on a mask of false cheer.


Girls can erase their identities to fit in.


Girls could overextend their schedules. (I'm still guilty of this!)
Ten Ways We Can Empower Our Girls
Encourage them to share their thoughts and opinions. Ask them what they're thinking and feeling often. "What do you think about that?" is a simple way to initiate conversation.


Encourage them to have quiet time. Ask themselves who are they? These answers can only come when they spend some time alone and quietly think. Start off with just 1 minute a day and work her way up.


Teach her to self soothe. Create a list of stress busters. Share your own list.


Experience both success and failures. Let your children see you fail. It teaches them to take risks.


Nurture a connection to community, a connection to something bigger than her.


Nurture passion and self-expression. Have her do what she loves. What makes her come alive?


Expose her to other girls outside her peer group.


Encourage her to develop a spiritual life. Barb Steinberg tells her girls to connect to their "wise self." The wise self is the part of you that wants the best for yourself.



Have loving adults in her life.


Most importantly, role model empowerment. Children and teens can hear and feel your behavior more than your words.
Talk First!
Workshop lead by Kristin McDuffie, MPH, a Community Health Educator for Planned Parenthood. This workshop offers effective tips on how to talk to your child about sexuality and become an "askable" parent.


Children need to know about sexuality to help cope with their feelings and with peer pressure.


Knowing about sex helps them take charge of their lives and have loving relationships.


Knowing about sex also helps protect them from sexual abuse and from becoming sexual abusers.


Kids are exposed to confusing and contradictory messages about sexuality on a daily basis.


Because sexuality is such an intimate subject involving family values, feelings, and communication, no one is in a better position to talk about sex with children than the parents.


Convey that growth and maturation rates differ from person to person. Being different is normal.


Discuss the important relationship between sexual and emotional feelings.


Acknowledge that abstinence is normal and healthy, that sexual development is healthy and natural, and that, as they grow older, there will be many ways to express sexuality that do not include intercourse.


Be open to conversations about birth control and be honest and accurate.


It's never too late to talk to your children about sex.


Seek teachable moments. They're all around us. Lyrics, TV shows, public displays of affection, and news stories. *Rosalind Wiseman, the keynote speaker, just put up a great blog post about speaking to your children about the Penn State sexual abuse scandal.


Tell me about a moment in your life where you felt in empowered.
This past Saturday, my little from Big Brothers & Big Sisters attended a one day
We Are Girls Conference
hosted by
GENaustin
. I read about the conference and immediately knew I wanted my 12 year old little to attend. We've had conversations that involve serious issues in dating, unhealthy body image, bullying, etc and I really want her to feel more empowered. I also wanted more insight on how to navigate our conversations.
The conference was organized so that after the keynote lecture from Rosalind Wiseman, the attendees divide by age groups and pick and choose their workshops. There were three workshop sessions. I tried so earnestly to influence my little to choose the self esteem workshop, the dating workshop, and the talking to your parents about sex workshop. She instead opted for writing, jewlery, and acting. At least I tried!
Without further rumination, here's my paltry recap of the keynote lecture and the three workshops I chose to attend.
Keynote Address by Rosalind Wiseman
Rosalind Wiseman is the author of Queenbees and Wannabees (the movie basis for Mean Girls).
There are three types of teasing: Good teasing, Unintentionally Bad Teasing, and Bullying
Bullies use insults and words that send the message, "you cannot speak." All their choice phrases is to silence their victims.
There is a difference between snitching and reporting. Snitching is done with the intention to get someone in trouble. Reporting is done because the problem is too big to solve on your own.


Leadership is claiming your voice.


Listening is being ready to be changed by what you hear.


When someone apologizes to you, don't say, "it's okay," just say, "thank you."


Practice advocating for yourself. Do your conflict resolution with friends in person and not online.


Don't tell your children to ignore bullies. Tell them you're sorry to hear it and thank them for telling you.
The Wisdom of Girls: Teens, Sex, & Truth
Workshop lead by Barb Steinberg, LMSW, producer of The Wisdom of Girls documentary.
Be clear about your own sexual and family values with your kids. They are receiving messages about sexual values from their friends and media. Insert your voice.


Have compassion for your teens. Their prefrontal cortex (the part of the brain that houses executive decision making) is not fully developed til they are in their early to mid twenties.


Because they are still developing, they are bound to make mistakes. Be the soft place for them to land when they do.


Studies show that sex education does not increase sexual activities. In fact, they seem to delay sexual activities.
95% of Texas schools teach abstinence only. Texas has 5th highest teen pregnancy rate and 3rd highest repeat teen pregnancy rate.


It takes guts for your teens to come to you with their questions about sex. Have the guts to answer them.


Normalize sex in conversation with your teens.


The point of normalizing sex in conversation is to be an askable parent.


Askable parents can have opinions. Acknowledge your own opinions and desires for your children but also express understanding that they need to decide for themselves.


A good way to initiate conversation is to ask them what their friends are doing.


Tell your children that sex should feel good and if it doesn't it might be a red flag that something physically or emotionally is not right.
Tell them to trust the quiet wise voice inside of them.


If they are in the moment and sex is in the immediate future, a good way to buy time is to announce the need to pee. Claiming you're on your period is a bad buying time device. (You can't be on your period next week and the week after that.) Teach your children to buy time, sit in the bathroom, find quiet wise voice, and make the choice for themselves.
Be as detailed and concrete as you can be when discussing birth control. Use cucumbers if need be.


Remind them of the stats. They may come to you and say they feel like everybody is doing it. Remind them half of the population is not.


60% of teens wish they waited longer. It's 80% for girls.
Question: How did your parents approach the topic of sex with you?
On Friday, I cooked dinner for Selina and we had our first one on one time in at least a year. She treated us to cupcakes from my favorite cupcake place in Austin.
Saturday, I woke up super early to drag my little from Big Brothers and Big Sisters of America to a We Are Girls conference. It was a great experience and I learned a lot in just three workshops. I hope to hammer out a recap this week. There was a lot of information I want to help spread out into the world.
Then I did some Christmas wrapping.
And finished the evening doing
#WinetoReach
with my VEDA (Vlog Every Day in August) friend,
Treavor
. He was visiting from Dallas! We had our
first date
not too long ago where I introduced him to bubble tea. This weekend, I asked him if he was down for crepes and when he said he had never had crepes, I knew in my heart that we were about to start a tradition.
On Sunday, I woke up super early again and "ran" the Susan G Komen's Race for the Cure 5k.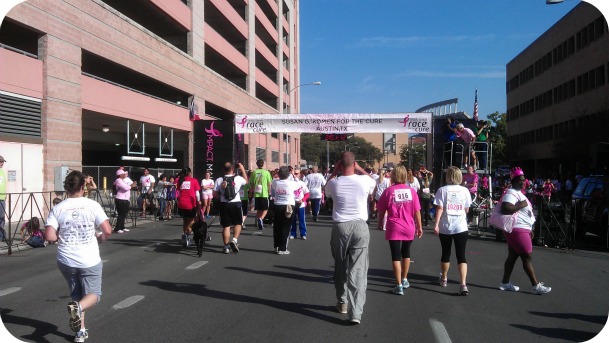 Brittany then suggested we go to Juan in a Million (a local favorite) and when she told me she never been, I couldn't get us there fast enough.
It was a treat to see most of the people at Juan in the Million were wearing their Race for the Cure t-shirts too. We felt like we were part of a community.
Not pictured from the weekend:
Walking another 3 miles in the afternoon with my friend Brandi and my dog. (Leaves me quite sore this morning!)
Picking up the boyfriend from the airport. Just in time! I was missing him.
A few episodes of Felicity.
Lots and lots of chores.
Question: What are your weekend highlights?
1.
This week on Totes Awesome Channel, we discussed what we wish we can experience again just for the sake of experiencing. And by we, I mean Ashley Riordan and myself. The other girls are busy visiting each other in Boston and taking care of a new born! We did convene to make a welcome to the world video for the baby.
Youtube Link
I admitted in my video that I was very lucky and granted a once in a life time opportunity to see Nelson Mandela speak. I wish I could experience that opportunity again because as a 16 year old, I remember not respecting the experience and actually being bored and not listening. Bad, younger Linda!
2.
I have 2 more days til Race for the Cure. I've raised $460 towards my goal of $500. (Thanks to a lot of you! ) If you're just tuning in, care to spare me even just five dollars towards raising money for breast cancer research? I'd be so grateful.
3.
Tomorrow, I'm taking my little from Big Brothers and Big Sisters of America to a We Are Girls conference.
I worry about her a lot. She's juggling a lot of heavy issues. Self image, boys and friends not respecting boundaries, bullying. It breaks my heart sometimes to hear her talk about her life. I'm hoping us attending this conference together will help empower her and give us a great platform to discuss these issues even after the conference.
4.

I knew Alan will be gone for a bachelor's party in Vegas this weekend. I love him dearly but was looking forward to this "gift" weekend for months! I envisioned fun girl time and lots of time on the couch by myself. (I miss time on the couch by myself, y'all.) However, I think I got overzealous with the planning and packed it too fully. Meaning, less couch time.

Tonight I'm making dinner for Selina, a friend I haven't seen but once this year. Tomorrow, I have that conference with my little. Sunday, I have a 5k to walk/maybe run, and also another walking date with the dog and Brandi. Oh and chores this weekend. Lots and lots of chores.



5.
Danielle invited me to share a post with her for her weekly Five Fav Fridays series. This week was about books and I was all too happy to talk books with her. I picked 5 of my favorite books that I've read in 2011. Go to her blog to see my list and her list. We both chose Hunger Games for one of our five!
What are some of your favorite books this year?
6.

I still don't know how I'm going to budget Christmas. I think I'll be making a lot of gifts this year. I did buy my first gift! It's for my parents. They barely know what Google is so I think it's safe to share that I got them both electric toothbrushes and a slew of toothbrush heads. I went for practical this year!

Have you started on Christmas shopping?




7.
This week's moments of bliss: ♥ dinner date with Deesh ♥ fetch with Bob ♥ Christmas lights ♥ inadvertently parking in handicap at school for half a day and not getting a ticket ♥ catch up phone call with BDF (Best Dudie Friend) while walking our respective dogs ♥ making it to day 11 of NaBloPoMo ♥ BFF coming out of blogging hibernation ♥ postcard from Spain ♥ letter from California on pretty peacock stationary ♥ morning time with the dog ♥ scholarships to We Are Girls conference ♥ waking up as loudly as I wanted this morning (didn't have to worry about waking up the sleeping beau) ♥ no football for a weekend!
Question: What would you like to experience again?
1.
This week on Totes Awesome Channel, we all share our best decisions.
Youtube Link
I talk about my top decisions. Moving away from home for college brought me a lot of growth. Letting go of an old relationship, let me become more my hedonistic self. And seeking help, put my relationships at a higher standard. You can hear more by viewing the video.
2.
Today's VEDA (Vlog Every Day in August) topic is our relationship with technology.
Youtube Link
I basically ramble about my reluctant relationship with technology. I just got my smartphone last week. I'm afraid of downloading things. My last few laptops were hand me downs. And I'm afraid of technological changes. View the video for more.
3.

After work today, I'm driving up to Dallas on my own for a girls' weekend. I'm really nervous because the last time I drove on my own to Dallas was in 2007 and I totaled my car when a 16 year old did not give me my right away. Anxiety! However, my extreme excitement to see these girls again is outweighing my anxiety. The last time I saw Hillary and Alex, was in San Angelou, Texas and it was also during Vlog Every Day in April. You can bet I will be recruiting them to join me in a vlog for Vlog Every Day in August.



4.
Last month, I was overwhelmed because of the busy schedule but it looks like THIS month is the busy month. We have vlogging every day which is a huge commitment as it also means seeing as many of the videos of others doing it as you can. (We have 80 plus participants this year! Last year we only had 20 something.) Then here are the other major happenings for me in August:
August 5-7: Girls' weekend in Dallas, Texas
August 10: New lease starts
August 13: Moving date for me
August 20: Need to have old apartment cleaned and keys returned
August 25-29: Going to Canada with Alan
On top of that I want to see my little from Big Brothers & Big Sisters of America a couple of times at least and I have a pregnant friend I haven't seen in months. Another friend who's been patiently nudging me to see her, and the list goes on with friends I keep dodging. I feel a bit haggard and also negligent of some of these relationships. They mean a lot to me but I just want to stick my head in the sand, get through these dates, and then call them in September.
5.
Earlier in the week, I had just finished up dinner with Alan, and saw that dusk was around the corner and I was minutes from the Congress bridge. Having never seen the bats in Austin, I called up Monica and Naz to see if they could join me for a few minutes on the bridge. We've been trying to go all summer. In Austin, we have thousands of bats who live underneath the Congress bridge and at dusk they all fly out to seek food. I've lived in Austin for 10 years now and have never taken the time to see them. Long story short, I was standing on the bridge by myself, waiting for the girls to join me, when out they flew.
It was so breathtaking. I stood there on my own and exhaled and tried to savour every second of it. It only lasts about 3 minutes. Afterwards, I called my friends to tell them that they missed it but should definitely come back when they have time. I am sad they didn't get to join me but a part of me was very happy to have those three minutes to myself.

6.
I miss my food blog. Hoping the trip to Dallas will motivate me to give it some love.
7.
This week's moments of bliss: ♥ lunch date with Naz ♥ many bags of chips ♥ chocolate orange cupcakes ♥ pork belly ♥ colorful salads ♥ spiced watermelon with goat cheese ♥ VEDA ♥ Google Doc that is the game plan for the month that BFF started for me ♥ seeing Kim's every day this week because of VEDA ♥ discovery of David Gray's music ♥ last minute dinner date with Deesh
Question: What was the last breathtakingly beautiful thing you witnessed?
We have a natural right to make use of our pens
as of our tongue, at our peril, risk and hazard.

- Voltaire

It took me some learning from college days, to really consider who might come across what I publish by way of Facebook, Twitter, or any other online public forum. I'm still learning. For instance, something I didn't consider til a year or so ago, is that comments you leave on blogs are searchable. I now have a mental checklist of questions I go through before I publish, comment, upload, tweet, or record.
How would I feel if my little from Big Brothers & Big Sisters found this? Am I setting a good example? How's my language? And I'm not just talking about swearing, am I demeaning myself or anyone? Am I contradicting anything I've tried to teach her?
Sometimes I'm most inspired when I'm angry at someone. How would I feel if the person who inspired a post were to read the post? Is it something I've discussed with them in person? Is the focus on my journey or am I merely airing dirty laundry? Are they identifiable? How would they feel if they read it?
Am I violating anyone's privacy? I'm a pretty candid person, but many of the people in my life are more private. Am I disclosing anything about them that they would not like to be disclosed? If I'm confused or if it's not clear, I ask them simply, "May I post this [photo/post/conversation]?"
How would I feel if an employer or coworker found the posting? This is the obvious one that still gets people in trouble. Am I divulging confidential information? Am I complaining about a coworker? Am I airing grievances online instead of speaking to those directly involved?




Questions: How do you censor yourself? What would you add to this checklist?