1.
Two of my dear high school friends, Alex & Hillary are coming for the weekend. We're going to camp out on my living room floor. On our agenda for sure: booty shaking. All else will be decided on whim. :) Cannotwait.
Here's a pic of the three of us from November. I think this is the last time I saw either of them.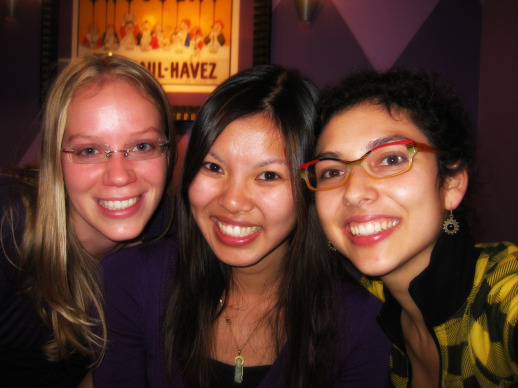 2.
I liked this voice mail I got from my friend Davey. Mainly for the mumbled, "I like you." Shared with permission.
I like him too. It's not yet my birthday.

3.
On the walk to my car one day this week, I saw a statue hold a balloon and it made me smile.
4.
I'm on a SARK kick. Here's my loot from the Austin Public Library.
5.

Click for bigger picture
I don't know if I buy that a squirrel waved at her. I also don't know if I buy that another squirrel waved at her previously disbelieving brother. I will admit, I might start discreetly waving at the squirrels on campus just to test it out.
6.
My little from Big Brothers & Big Sisters of America has a boyfriend. She tells me they have a lot in common. For instance, when people fall down, they both laugh. They also both like to "do pranks."
7.

Beef Stroganoff Fail
I made my first marinara sauce from scratch on Wednesday. It was decent. I wasn't feeling confident with cooking because I royally screwed up my first attempt of beef stroganoff on Sunday. The recipe said to cover and simmer for an hour. I had no idea I was supposed to stir occasionally! The sweet thing is, Alan scraped off some off the top (the edible portion) and actually complimented it! Aww.