1.

I'm moving in less than a month and have not started to tackle the mountain of a challenge of packing and uncluttering. Every year, I move. Every year, I tell myself, "Linda, you must not buy so much stuff. Do you need all these miniskirts? You are a working woman and you can only wear these skirts two days a week!" Etc! The only good thing about moving is that it's a good time to reminisce and take stock of your physical life and your emotional life. Letters from old friends surface. Sentimental keepsakes surface. Journals are opened and perused before stacked neatly in boxes. I'm looking forward to going down memory lane. It's a moving tradition.
2.

One of my 2010 resolutions is to write 15 letters. I wrote a few for Valentine's Day but I cannot for the life of me remember how many. I think 4 is lowballing. I forgot this was a resolution so I haven't been keeping out. I think it's safe I've sent at least 7 this year. I'll start the count there. I've been meaning to write Suki of SuperDuperFantastic for what, a month now and that first letter to someone is always kind of intimidating.

I'm almost out of my Lisa Frank stickers circa SECOND GRADE. That's 1990! I like to sticker bomb my correspondents with stickers from my massive childhood collection. See below, Kim's facebook photo of a letter I sent her a few weeks ago.
The sweet blurb she posted with picture:

one of the best qualities to find in people is their ability to remain young at heart. playing in the snow, getting excited about fireworks or making smores, water balloon fights, lisa frank sticker-bombing notes to your friends. i hope we never grow up.

3.
Curious, I did a search on zee blog and found a picture from this year of a batch of cards I sent out for Valentine's day. I counted 5 in this picture. Booyah! I have adjusted my letter/correspondent count to 8.
Original Blog Post
4.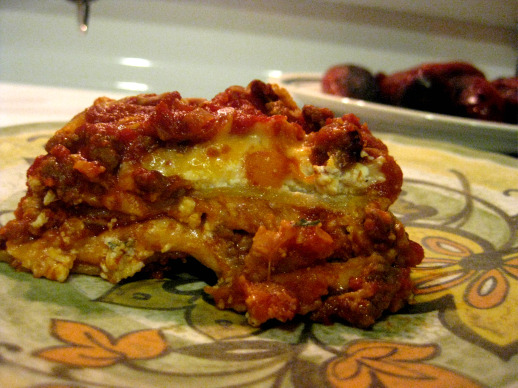 Alan just gave me a morning call to thank me for the serving of lasagna I dropped off last night. (I like early morning calls from him.) I made my first lasagna!! The excitement still hasn't completely worn off. Made it for a mini potluck. Mini includes myself, Bing, Deesh, and Jesse in attendance. Here's a picture of my plate pre baked beans. Kind of funny. Do you see any vegetables? Not pictured is Jesse's cake.
In our defense, we winged it. This potluck's only stipulation was "bring what you want."

5.
I had my first and hopefully my last Double Down this week. I give you permission to be disgusted at me. If I'm going down though, I'm taking my partners in crime with me. See photo of guilty partners in crime below.
6.
Remember how I told you Brittany and I were making eyes at a real live camel? I have proof! This was taken at the Bob Bullock Museum after a free screening of Arabia (IMAX & 3D).

Don't be coy with me, Camel.
7.

I've sat and contemplated no. 7 for a while now. I give up and share with you another picture. A wipe board message from an undergraduate who left our lab. I never get used to that part of growing up, the goodbyes :(.