On Friday, I cooked dinner for Selina and we had our first one on one time in at least a year. She treated us to cupcakes from my favorite cupcake place in Austin.
Saturday, I woke up super early to drag my little from Big Brothers and Big Sisters of America to a We Are Girls conference. It was a great experience and I learned a lot in just three workshops. I hope to hammer out a recap this week. There was a lot of information I want to help spread out into the world.
Then I did some Christmas wrapping.
And finished the evening doing
#WinetoReach
with my VEDA (Vlog Every Day in August) friend,
Treavor
. He was visiting from Dallas! We had our
first date
not too long ago where I introduced him to bubble tea. This weekend, I asked him if he was down for crepes and when he said he had never had crepes, I knew in my heart that we were about to start a tradition.
On Sunday, I woke up super early again and "ran" the Susan G Komen's Race for the Cure 5k.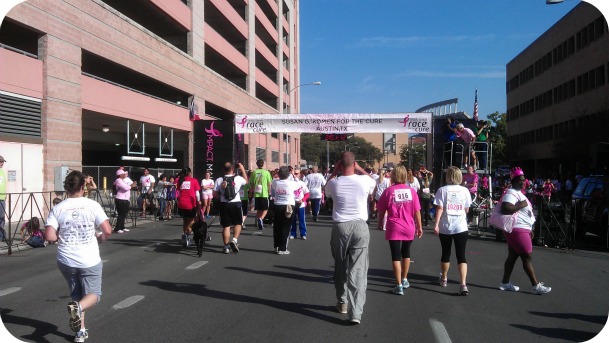 Brittany then suggested we go to Juan in a Million (a local favorite) and when she told me she never been, I couldn't get us there fast enough.
It was a treat to see most of the people at Juan in the Million were wearing their Race for the Cure t-shirts too. We felt like we were part of a community.
Not pictured from the weekend:
Walking another 3 miles in the afternoon with my friend Brandi and my dog. (Leaves me quite sore this morning!)
Picking up the boyfriend from the airport. Just in time! I was missing him.
A few episodes of Felicity.
Lots and lots of chores.
Question: What are your weekend highlights?