January
– Kim came up for New Years. We celebrated downtown with Alan's couple of friends and Jon and the boys.
– Kim and I wrote on two balloons on New Year's Day. One balloon of our regrets and things we're letting go. The other balloon our desires for 2009. Then we ever so poetically, released them on my balcony.
–I went to San Diego for the fourth time. I made it to the zoo and stayed at the same hotel as Jon and Kate plus Eight when they went to San Diego on their way to Hawaii.
– Made Jambalaya for the first time.
-Ate a lot of food with Jon while he was visiting Texas.


At Paradise Pointe Resort in San Diego.

February
– Spent my favorite holiday with Jamie.
– Did my own taxes for the first time
– Found a new hair stylist of of Sixth Street after asking her for a kiss for Bing for his birthday.
– Sent out Valentine cards and packages.

Celebrated Bing's birthday on Sixth Street. The night I met my hair dresser.

March
– Watched a lot of movies and cooked a lot of dinners with Alan.
– Cindy came up to visit. Introduced her finally to Flip Happy Crepes.
– I got about 3 hours of sleep a night.
– I go to San Diego for work yet again and stay at a hotel that had sex toys in their mini bar available to purchase.
– I search for a Madam Mam's replacement. (Never found it)
– I celebrated Brandi's birthday with Jessica. This is the 2nd time in 2008 we managed to spend some time together. We went downtown for her birthday and ate at Hula Hut.


With my girls, celebrating Brandi's birthday. I wish this year we saw each other more. There was a time a year or two ago we saw each other once a week at least.

April
– I go to Second Chance Prom with Neville. Sweet since I didn't have a date to my highs school prom. Well.. Liz was my date :)
– I meet my little and take her to celebrate Earth Day at Republic Square.
– I take a fabulous vacation to NYC (originally suppose to include Boston too and visit Mary Ellen but her paper got accepted into a conference). I got to see the Jennifers and Jon. Jon was my lovely host. (entry, entry, entry, entry)
– Had my first Brazilian Wax. Yikes.
– The father of two of the kids I've babysat since both of them were born, died.


Jon and I in NY.

May
– My brother graduates college! My parents came up to see him walk.
– Alan and I didn't renew our lease and I started to mourn the apartment. I was in love with our location and view.
– Continue to babysit for the boys who lost their father. Started with the night of the memorial service and then the funeral.
– Selina asked me to be her bridesmaid.
– My brother turned 23. Making me feel old.


Our view.

June
– Go to funnest book signing I've been to with Si Nae and her boyfriend. We went to see Chuck Palahniuk promote Snuff. He threw out blow up dolls.
– I worked a lot.
– I saw a lot of movies with Alan.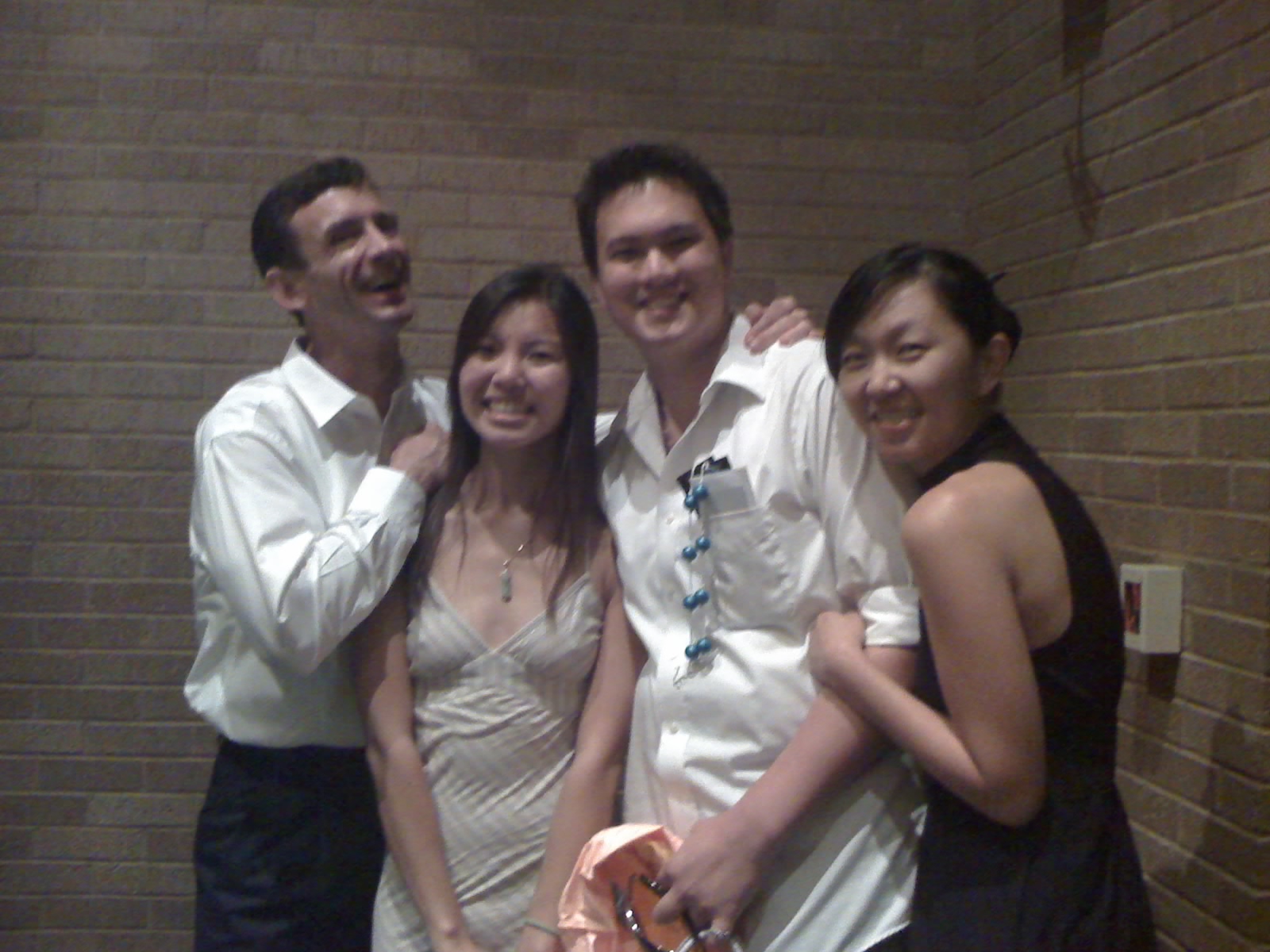 Si Nae, her boy, and Chuck Palahniuk!

July
– Alan and I moved out and stopped being roommates :( But it was a good move for us :).
– Went to Florida for the first time to get Mary Ellen married. Flew in a few days early and I joined her clan in cooking, building, bitching, bonding, all in the name of love and the most beautiful wedding I've been to yet. It was pretty much a DIY wedding and you can see the labor of love in everything. The baby food jars around the garden sheltering tea light candles, the fireworks/crackers, the dance floor her uncles and aunts built, the cascading fruit basket one of her uncle fashioned at 3 in the morning the night before the wedding, etc. SO many details that were not only beautiful on its own, but also in the labor and thought and love that it represented.
– I take a Thursday off of work and Brandi and Jessica and I hang out for the third time this year. They treated me to a trip to Schiltterbahn for my birthday. Last year it was Sea World.
– Turned 25. Jen T who normally only comes once or twice a year happened to be in town for my birthday :). Si Nae dropped by flowers. I had a pretty birthday cake in the shape of a snow globe. I celebrated with friends. Felt special. Alan took me out to a romantic dinner and bought me a cell phone. It was a good birthday. Though I hate that I'm now 25.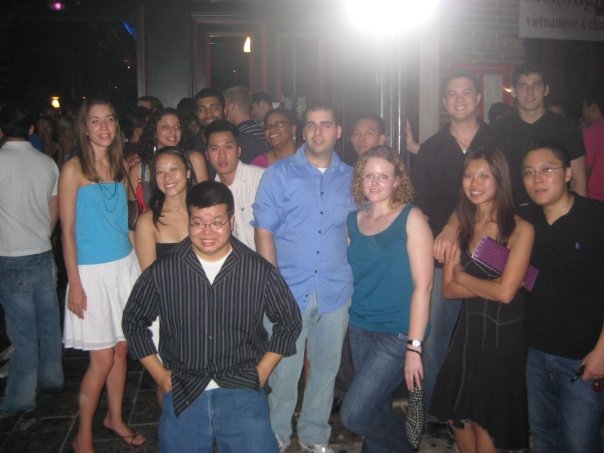 Birthday celebration.

August
– Lily teaches us to make sushi.
– Alan introduces me to Mikados. I mention this because now we go here fairly often for sushi. I've yet to take him to Musashinos.
– Cindy comes and stays with me for almost 2 months for her pharmacy school rotation.
– I take my little to her first play. Jack and the Beanstalk.
– Nisreen and Nino get engaged and Nisreen asks me to be one of her bridesmaids.


Sushi making night

September
– I take my certification test and am now certified in clinical research.
– I go to the Domain with Nisreen to study for that test. We go just looking around for her wedding dress and we actually FIND it at St. Thomas.
– I fly to Orlando for work, wishing Alan had gone.
– I take my little to her first UT football game.
– Cindy and I try to learn about football.


So it wouldn't just be for me why I wanted Alan in Orlando with me. Lookit the golf course!
October
– To my surprise, I'm taken by UT football. Really taken after watching OU game. I thought I had burnt out on football forever, but it's really quite addicting.
– Alan takes me to see UT/Missouri game.
– Alan had a birthday.
– I dress up as a Hula girl for Halloween.


Kissing Meatwad.

November
– Ran my first 5k with Nisreen, Katambra, and Melissa.
– Jessica has a birthday, so the three of us (Brandi, Jessica, and I) reunite for the fourth time this year. FOUR times. That's so sad. We go to Pete's Dueling Pianos with plans to go to ren fest again but Brandi got struck with hives.
– I practically live at work.
– My brother breaks in his apartment by hosting a Thanksgiving meal. He makes his first turkey. Delicious!
– I take my little to the Paramount theatre for the first time. We see The Hungry Caterpillar. Then I have a mini high school reunion.
– I take Thanksgiving week off from work and spend a week in Houston.
– I see fireworks with Kim and kind of Chris.

Nisreen pours everyone a double shot of bourbon at my brother's Thanksgiving dinner.

December
– I finish paying off my car :) One of my New Year's Resolutions. I bought in July 2007. Not bad, if I do say so myself.
– I spend Christmas in Houston.
– On the 26th of December, Kim and I for the 2nd time release balloons for New Years. We're stunned that this time around, we do not have any regrets to write on that regret balloon. Instead, we write what we want to stay away from. Good times with Ms. Kim.
– I get to see my best friend, Mary Ellen. Second time this year. First time being for her wedding in July.
– I go back on Saturday (today) to get some work done and to spend NYE in Austin. With friends and beau.


Our balloons. Purple = wishes. Pink = what we'll stay away from. Since we didn't have regrets this year.

It's been a good year. I read 10 books, ate a lot of Pho, and laughed a lot.